Have you always wanted to learn how to sew? Or, maybe you learned years ago but fell out of practice? Either way, Sew Crafty's Adult Workshops are a fun, social way to build your skillset. As always, we've got you covered on the materials and machines — just bring a can-do attitude!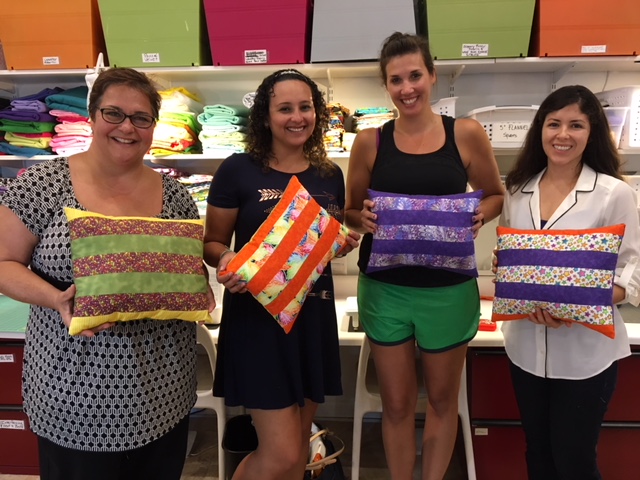 Beginner's Sewing #1-Pillow
$40 — 2.5  hrs
You will learn the basic functionality of a sewing machine and how to maintain a straight seam line. This class is perfect for people who have never used a sewing machine and those who have had a little bit of experience a long time ago and need a refresher course! The project you will make is the Beginner's Pillow as pictured.
Beginner's Sewing #2-Tote Bag
$45— 2.5 hrs
A great 2nd class to take after the Beginner's #1-Pillow class. Choose from our selection of colorful pre-cut fabrics. Beginners Sewing #1 is a pre-requisite UNLESS you already have basic sewing skills. In this class you'll learn how to "top stitch", how to make handle straps, a patch pocket, a lining and a box corner.
Beginner's Sewing #3-Zippered Pouch
$40 — 2  hrs
This practical little zippered pouch can be used for make-up or jewelry when you travel or any number of things. It makes a great gift that you can use to hold OTHER small gifts! It's MUCH easier to make than you might think!  If you can sew in a straight line, you can make this pouch.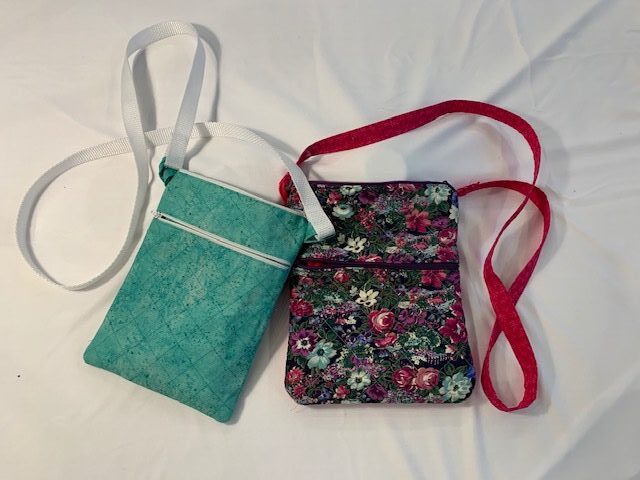 Double Zipper Cross-Body Bag
$55 — 3  hrs
This  lovely little cross body bag has an outside zippered pocket, another outside pocket on the other side and a zippered top opening. It is quilted and has a long fabric strap.  As is true of all the Sew Crafty projects, it's much easier to make than you wold expect. Many pretty fabrics will be offered for you to select from. Skill level: Confident Beginner.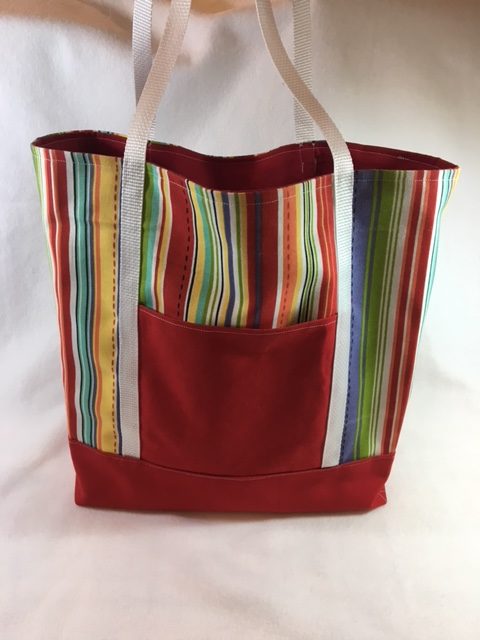 Market Bag
$65 — 3.5  hrs
This is a substantial tote bag perfect for the Farmer's Market but also useful as a beach bag or a gym bag.  It is also the perfect size for kids to use for a sleep-over. The reinforced bottom and woven nylon handles make is a lot like an L.L.Bean bag, only we offer more fun colors of fabric!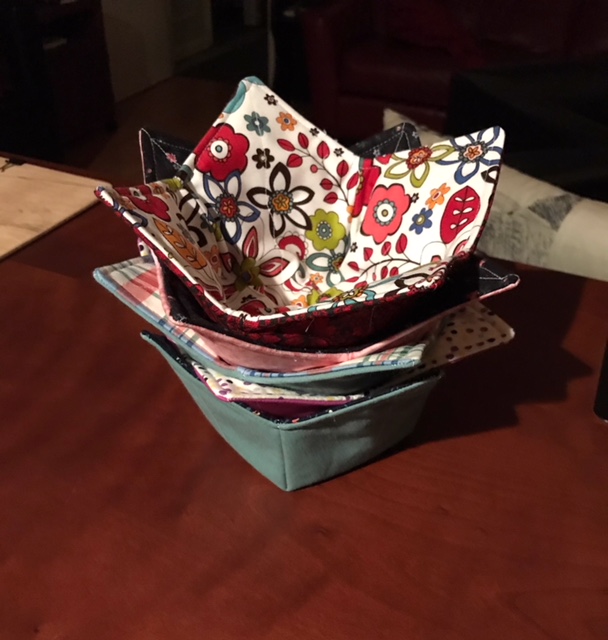 Bowl Cozy
$40 – 2  hrs
Don't you hate it when you reach into the microwave to remove your bowl of hot soup and you burn your hands on the hot bowl?! Well, if you put  your bowl in one of these BOWL COZYS that won't happen! Easy and fun to make and they make a great gift!
Clutch Purse
$40 — 2  hrs
Cute little clutch purse, sort of like a decorative wallet.  It has a 2  compartments inside, one with a zipper, and a little pocket with a velcroed flap for your change.  Perfect for keys, money, cell phone & lipstick – all you need when you go out in the evening. Make one to go with your favorite outfit. As is the case with most of our projects – it's easier to make than you might think!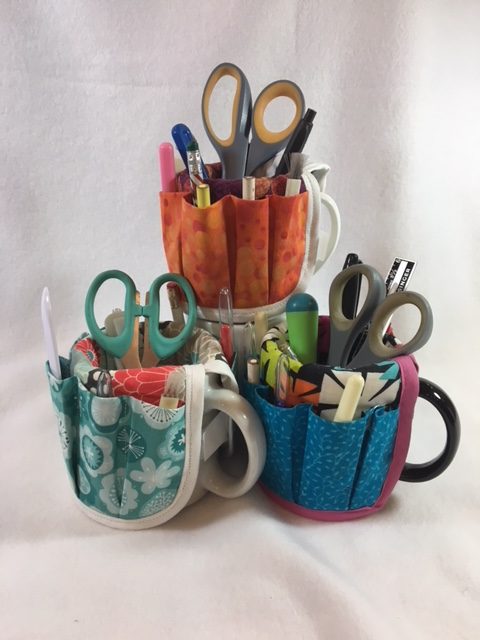 Mug Apron
$40 — 1.5 hrs
This is an adorable little project that's very useful.  It makes a great gift 'cause who couldn't use another organizer for their pens, pencils & scissors or for their sewing tools or small woodworking tools? As always, this project is easier than it looks!
Don't See the Workshop You Want on the Calendar of Classes?